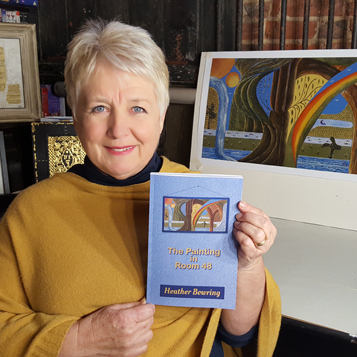 The Painting in Room 48
Heather Bowring lives in the South of England and works as a professional artist.
Her first novel was inspired by a thesis she wrote as a mature student, 'Art as a Complementary Healer'.
She has always been fascinated with the idea that the space between a painting and a viewer is filled with their own history and wanted to develop this idea for it to play a major role in the book.
The novel weaves in and out of the lives of the patients admitted to hospital room 48 and the care assistant Olga. It explores their reactions to a surrealist painting on the wall called Share my Dream.
The Painting in Room 48 is available on Amazon – Buy Now
ISBN 978-1-9160661-0-6
Paperback £7.99 and Kindle £2.99
Heather is a member of The Society of Authors.
Media Coverage of The Painting in Room 48