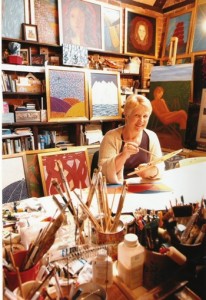 Heather Bowring is a self taught artist who has developed a new style of tactile relief work paintings that are meant to be touched, this work has enabled her to invite into the art arena the previously excluded audience of the blind and visually impaired, so they too can share the experience.
Based at her studio at Emsworth, near Portsmouth in Hampshire, Heather began painting sixteen years ago. Her work encompasses a wide range of styles, including miniatures, portraits, and contemporary pieces.
Within a few years Heather had two solo exhibitions and received her first commission to make a tactile copy of Whaam! by Roy Lichtenstein for the Touch Tours department of the Tate Modern.
This was followed by a commission from the Mary Rose Museum to make a copy of a 16th century painting of the Mary Rose. It resulted in a commission from the Jersey Government to use that same image for a £5 commemorative coin.
Commissions also came from the Wordsworth Museum in Cumbria and two Crematoria. Her work is in Altnagelvin Hospital in Northern Ireland and the Princess Elizabeth Hospital in Guernsey. An exhibition held at the hospital was sponsored by Spec Savers and Condor Ferries.
Her latest collection of Tactile Portraits with
individual audio descriptions launched World Sight day at Moorfield
Eye Hospital, London and has had six solo exhibitions in
the UK, with interest now from the USA.
Heather's career work has been featured in numerous media outlets including a major Sunday supplement feature about women who turn their lives around. She has been a regular contributor to BBC Radio Solent. She gives talks to community groups and organisations and is a regular guest speaker on board cruise ships.
In addition to her Tactile Paintings Heather now creates Artist Books, working with wood. plaster, leather and gold leaf.
Her first novel ' The Painting in Room 48' was launched at the end of January 2020, published by Amazon.
Commissions
Tate Modern Touch Tours, London
Mary Rose Museum
2012 – Wordsworth Museum, Cumbria
2011 – East Devon Crematorium
2011 – £5 Commemorative Coin using painting of the Mary Rose
2009 – Braintree Crematorium, Essex
Collections
Eden Project, Cornwall
Mary Rose Museum, Portsmouth
Downe Hospital, Northern Ireland
Princess Elizabeth Hospital, Guernsey
Private Collections
UK, Poland and Italy
Heather Bowring – Education and History
National Diploma, Embroidery and Textile Design 1999 – 2001
B.A. (Hons) Degree 1995 – Art, Media and Design specialising in Historical & Theoretical Studies.
Theses: The Politics of Restoration; Art as a Complementary Healer vs the Physician; The Space Allocated to Children in Museums
B.TECH National Diploma 1992 – practical and theoretical course in woodcarving, gilding, specialist painting, plasterwork, interior restoration and interior design.
Practical experience included restoration of The Court House, Ashville, North Carolina, USA
Kruger Interior Design Company 1995 – 2004
I established this interior design company in 1995 and executed commissions for designing, redecorating and refurbishing properties, including contemporary and period houses, offices, shops, and a sports clubhouse.
Lecturer 1996-7 Chichester College of Art and Technology
History of Art, Design and Interiors. Specialist Painting.
Lecturer 1994-5 University of Portsmouth
B.Tech Restoration and Decoration.